Deburring tool NUODA DB1000
Deburring tool NUODA DB1000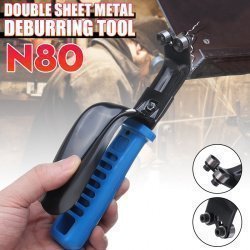 Good afternoon everyone. Today in our review we will have another deburring tool, this time a highly specialized one – for sheet metal with a thickness of 1-12 mm. It deburrs both sides of sheet metal in one pass (2 edges at the same time). Everyone who is interested in this is welcome under cat.
A little about the purchase
To be honest: I didn't even think about buying such a tool, although, like many of those who watched the video in my last review of the "deburring tool" class tools, for sure he was noticed (exact link to the video: 1m.30sec – 1min.42sec).
Just in the process of preparing that review, I climbed Ali and saw a similar tool, its price was 1650 rubles. and I paid no attention to him. The hamster simply doesn't need it, because for crafts I'm mainly interested in a duralumin plate from 20 mm thick and above, and this tool is designed for only up to 12 mm, and it's too big for the house in size and, in my hamster's opinion, it's only suitable for summer residents – to do roofing .
But then the unexpected happened – Ali slipped a lot where this instrument cost only 458 rubles. and with free courier delivery from a warehouse in the Russian Federation and in 4 days. And here the toad suddenly intervened – it seized this lot with a death grip. The fact is that I have one very good friend at a metal warehouse within walking distance (I wrote in the comments recently) and it would be nice to give him a small "present" in the fall, but here it's clearly what you need, and it's solid
saving. In general, the battle between the hamster and the toad (the hamster dissuaded) lasted for 5 days, and not just like that, but in the process of finding out information about the product.
Product information
I didn't even doubt that the Chinese copied this tool from NOGA, and so I immediately went to their website in the deburring tools section where the DB1000 was immediately and I saw, well, knowing its real name, it was not difficult to find out the real price of the branded one – I found it in the Hoffman catalog – 2761 rubles. or 31.62 euros.
After that, I already went to see if they sell originals on Ali:
Branded NOGA 10 blades BN8010 – 5950 rubles delivery 4280 rubles. = 10230 rubles
I found a separate lot and original blades:
BN8010/BN8043/BN8110/BN8143 blades — 5387-9332 rubles. delivery 2679 rub.
And here they are preparing to sell clones of blades – BN8010 – 860/3797 rubles, but judging by the photo in the review, the person was sent the original, and not the LEE WAY non-name package, which the Chinese apparently have on the way.
In general, the toad and the hamster, after carefully studying such information, came to a consensus only on the 5th day and I made an order.
Order Information
Immediately after ordering, the dispatch timer jumped by 6 days (that's 4 days delivery for you). The seller was in no hurry to send – he also decided to think for 5 days))
Finally, on the 5th day, the goods suddenly surfaced in the warehouse of Tomilino.
And it was then that the hamster neighed over the toad: "Well, did it fly by? You should have taken 2 pieces, one would have been wrapped up there in Tomilino to our second favorite base, "but by the way, you still can't jump there."
Then everything went smoothly – the parcel was delivered in three days directly to the house. We open the package and…
Painfully familiar box, right one to one, only larger in size. one type is not presentable, you will have to find a plastic one in size.On the back of the box is the same name – DB1000, so the Chinese left the name of the original for their clone.
Product dimensions: 200x60x50mm

Weight of the product is approximately 174 grams
Despite the fact that the protective shield is apparently made quite far from the handle, this impression is deceiving. with knuckles and a shield, the gap is only 4-5 mm, and if you also put on gloves … Shape the protective shield is also made correctly – at the bottom there is a V-shaped groove so as not to get hurt on the sharp edges of the sheet metal during operation (the hand is guaranteed not to come off).
The shield is steel, 1 mm thick and due to the stiffening rib it does not bend. And in general, the whole product looks too durable – the main bearing bar has a thickness of as much as 2.5mm. IMHO: this is even too much, they could have saved 0.5 mm, but apparently they copied it without hesitation. Visually, the differences between the original and the clone are not visible at all, except that the handle of the original may turn out to be some kind of slightly "rubberized", but you won't know this until you take it in your hands, but according to steel it's the norm, no comments.
There is nothing special to disassemble here, only 3 M4 screws with a 3mm hexagon socket
Close-up of the attachment of the blades:
Well, a little about interchangeable blades
In this product, the blades are made in the form of interchangeable cutting discs, which, of course, can be rotated and even turned over with the reverse side, because on the reverse side they have exactly the same sharpening. So, in principle, even one set of blades should be enough for quite a long time. The original blades from NOGA are called BN8010, and the Chinese may (but not exactly) call their clones N80, so you can try to search for them using these two markings in an Ali search.
Dimensions of the cutting discs: diameter 11.7mm length 5.7mm (Does this tell you something? But it tells me a lot, but more on that later). Hardness … but the hardness here is maximum – at least 64 Rockwell units, i.e. the quick https://jiji.ng/51-dj-controllers/serato cutter is hardened to the maximum (like glass, even the needle file does not catch, unlike Chinese drills). And the blades look decent, no
otherwise than branded ones from NOGA (apparently, the whales did not have time to stamp their clones and the first copies with imported ones began to be sold).
And now … about sharpening
I can please you, in fact, the service life of such cutting discs is much longer, they are easy to sharpen – it is enough to grind a couple of dozen on top of round grinding (inside along their cone do not touch). Of course, this can be done even at home – any M4 screw or stud is inserted into the same dremel, a disk is wound on them, we take an ordinary abrasive bar and voila))
Important! in no case should you approach the cutting edge with your hands – it will slip off and … and in no case should you try to remove the burr on the cutting edge with anything besides a soft pine / spruce stick. We just bring it on the go and lean it a couple of times (in different places). The burr will be knocked off and the blade will not be dull. No sandpaper / skins, etc. – fill up the edges with them this time, you will be left without fingers two. I hope everyone understood. Disks with a diameter of 11.7 mm and visually (at a glance) they can be ground down to 10.7 mm i.e. by 1mm, and this is at least 5 regrindings.
As soon as I saw these interchangeable knives, the phrase "hello 90s" spontaneously flew out of me. I then made at least a hundred such discs. True, they were 3-4 times larger in diameter, one-sided and a cone on top (instead of a backing) so as not to overwrite. The fact is that in those years there was a sharp demand for profiled timber and rounded timber (calibrated log). And they do it at sawmills on cylindering machines and similar cups go there as the second number after rough blades as a finish. Note: if anyone is interested, I can write more about rounding machines in the comments.
With a salary of 60 tr. per month we calculate the standard / hour: 160 hours = 375 rubles / hour cutter 2.3-3mm, the length of the required workpiece = 6mm i.e. 6 3=9mm (maximum) for 1 piece
1 meter = 1000mm divided by 9mm = 111 pieces
The cost of metal is 80 rubles divided by 111 pieces = 0.7 rubles per 1 piece
Total lathe material = 8.2 rubles
Next — thermal and circular grinding
It is more difficult to calculate a thermal (it consumes a lot of electricity, but such a trifle does not take up much space).
Grinding on the centers is generally fast – in an hour you can make 200 pieces without straining, so it turns out about 1.87 rubles
8.2 rubles 1.87 = 10.07 rubles
Total cost of such a blade we got about 10 rubles.
If the order is made officially, then a huge amount is added to this, starting from the rental of premises and depreciation of equipment and ending with the fact that for 1 working 20 people. service personnel.
If not officially (as a hack), then simply multiply by 2 (payment for risk) and get 20 rubles. 1 roller.
Of course, the order must be wholesale, i. hundreds of pieces, otherwise fiddling with it is meaningless.
This is an approximate calculation "offhand" of any worker in the Russian Federation when working on the lowest-performance equipment
i.e. "Hand-to-hand", but if the CNC takes over, then the price, of course, falls.
a similar product in China, I hope it's understandable.
Testing the operation of the product
For the test, I took what came to hand at home: a steel square made of hardware, tin – galvanized, stainless steel 12X18H10T. AMG duralumin 2 and 3 mm thick, copper (not the classic M3, but some kind of remake that looks more like spring bronze). Well, I tried. The first was duralumin:
The impressions were terrible: it is impossible to work on it because the blades are sharp, and their angle of inclination is such that they instantly "bite" into soft material, so such a design, alas, is designed only for hard metal grades. Then I tried steel and copper:
There were no problems with ordinary steel, but it works perfectly on stainless steel. Surprisingly very good result of work on copper (I did not even expect it, I was afraid that it would "bite"). Here is a close-up of the shavings:
After that, I tried a small piece of brass LS59 ("loose") – the results are also good. But I'm not sure whether such a trick with viscous brass LS63 will work, but I didn't have it at hand at home, and it's too lazy to look for it in the mezzanines and loggias (too much to dig).
For work on plastics and other soft materials, it is NOT guaranteed: for example, the blades instantly cut into plexiglass and foil fiberglass to a great depth, so it makes no sense to engage in such experiments … with the default configuration.
Note: this is still a classic deburring deburring tool, NOT a beveler, that's why it works
accordingly. It is important to understand that it can (and even should) repeat all the irregularities of the surface to be machined, since there are no supporting surfaces in front of the blades or after them (if at least small bearings were placed in front and behind the knives, then yes – it would turn out to be a beveler). Small associations:
I would not say that working with carpenter's shavings is very convenient, since the plane, unlike planers, is short. And in this case, it's not even there – consider that they put only blades. And there is no need to talk about any convenient adjustments of the knives during installation, "this is not for you." DMB©
IMHO: installing blades on different thicknesses of sheet metal (from 1 to 12 mm) is certainly not convenient. The rollers in the V-shaped groove are not connected to each other in any way and during installation they strive to stand one above the other (they have to be held). If done in a smart way, then it was necessary to at least put an eccentric and tighten both knives with one screw. Of course, this is not a stone in the garden of the Chinese, since they only copied, but a conversation about notorious brands.